AMAC Pneumatic and Hydraulic Clamp Components Automated Machine Accessories Clamps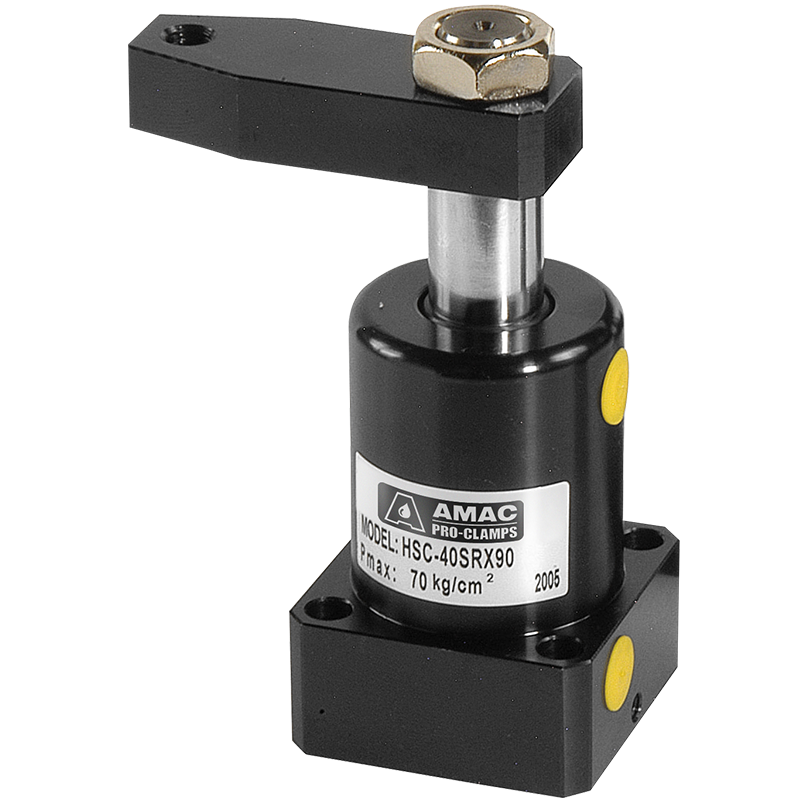 Product Introduction
• Bore : ø25~ø63 mm • Pmax : 100 Kg/cm²
• The product is ideal for mass production on a special purpose machine and jig on machining center. It will greatly upgrade production efficiency.
• When the hydraulic cylinder actuate, and the piston moves downward, the clamping arm will swing to a rated angle. Then it lowers until the workpiece is clamped securely.
• To avoid too fast motion a flow control valve is suggested to connect to the hydraulic swing clamp cylinder. Do not clamp workpiece while the calmp is swinging to avoid damaging on the cylinder barrel and internal parts.
• When increasing length of clamping arm is required, be sure do not exceed 1.5 times of the original length.
• The cylinder body is manufactured from structural carbon steel. Surface is specially treated for maximum smoothness on inside surface and long service life.
Specification
Bore of cylinder

mm

ø25
ø32
ø40
ø50
ø63
Piston rod diameter

mm

ø18
ø20
ø22.4
ø28
ø35
Swing stroke

mm

9
11
11
13
13
Clamping stroke (std/extension)

mm

13
15 / 30
15 / 30
17 / 34
17 / 34
Pressure area(pull/push)

mm

2.37 / 4.91
4.9 / 8.04
8.63 / 12.57
13.47 / 19.63
21.55 / 31.17
Theoretical clamping

30 Kg/cm²

71
147
259
404
647
Fluid
Filtered air
Max operation pressure
100 Kg/cm²
Operation pressure range
5-7 Kg/cm²
Rotating direction
R:Turn right/ L:Turn left/ N: 0˚ No swing
Rotating angle
Standard angle 90˚, Optional angle 45˚, 60˚
Acting type
Double acting
Order Code