AMAC Pneumatic and Hydraulic Clamp Components Automated Machine Accessories Clamps
High Pressure Swing Clamp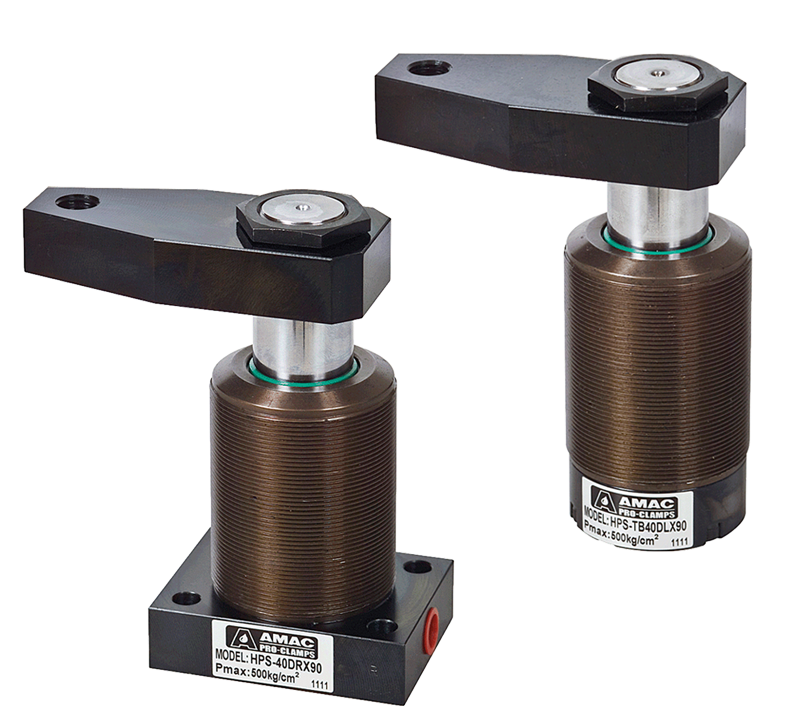 Product Introduction
• Bore : ø25~ø63 mm • Pmax : 500 Kg/cm²
• The series of swing clamp cylinder is ideal for workpiece clamping which requires a sufficient space for convenient workpiece loading and unloading and high pressure clamping.
• It provides swing motion (do not clamp workpiece) and vertical hold down motion.
• The swing clamp cylinder employs Germany oil seal and imported parts. The inside surface of cylinder barrel is specially treated, featuring maximum smoothness, high performance and long service life.
• For maximum oil feeding speed, refer to specifications. Do not exceed oil feeding speed to avoid too high swing speed. In case improper swing speed occurs, it is suggested to equip with an additional oil flow control valve to reduce oil feeding speed.
• Refer to the comparison diagram between the effective clamping force and working pressure. Do not extend the swing arm length as desired.
Specification
Bore of cylinder
mm
ø25
ø32
ø40
ø50
ø63
Piston rod diameter
mm
ø20
ø25
ø32
ø40
ø50
Swing stroke
D : Double-acting
mm
8
9
9
12
12
S : Single-acting
mm
10
11
11
14
14
Clamping stroke
D : Double-acting
mm
11
13
13
15
15
S : Single-acting
mm
9
11
11
13
13
Max. oil filling speed
cm³/s
3.3
6.9
9.9
19.1
31.1
Downward clamping oil required
cm³
3.3
6.9
9.9
19.1
31.1
Return oil required
cm³
9.3
17.7
27.6
53
84.2
Rotating direction
R:Turn right/ L:Turn left/ N: 0˚ No swing
Rotating angle
Standard angle 90˚, Optional angle 45˚, 60˚
Min operation pressure
D : Double-acting
10 Kg/cm²
S : Single-acting
30 Kg/cm²
Order Code

1

Series
HPS

2

Mounting type
Flange
Blank : Line type
M : Manifold type
Threaded body
TB : Threaded body

3

Bore of cylinder
ø25, ø32, ø40, ø50, ø63

4

Acting type
S : Single-acting / D : Double-acting

5

Rotating direction
R:Turn right/ L:Turn left/ N: 0˚ No swing

6

Rotating angle
90 : 90˚ / 45 : 45˚ / 60 : 60˚