AMAC Pneumatic and Hydraulic Clamp Components Automated Machine Accessories Clamps
Air drive booster - Air Pump Four Circuit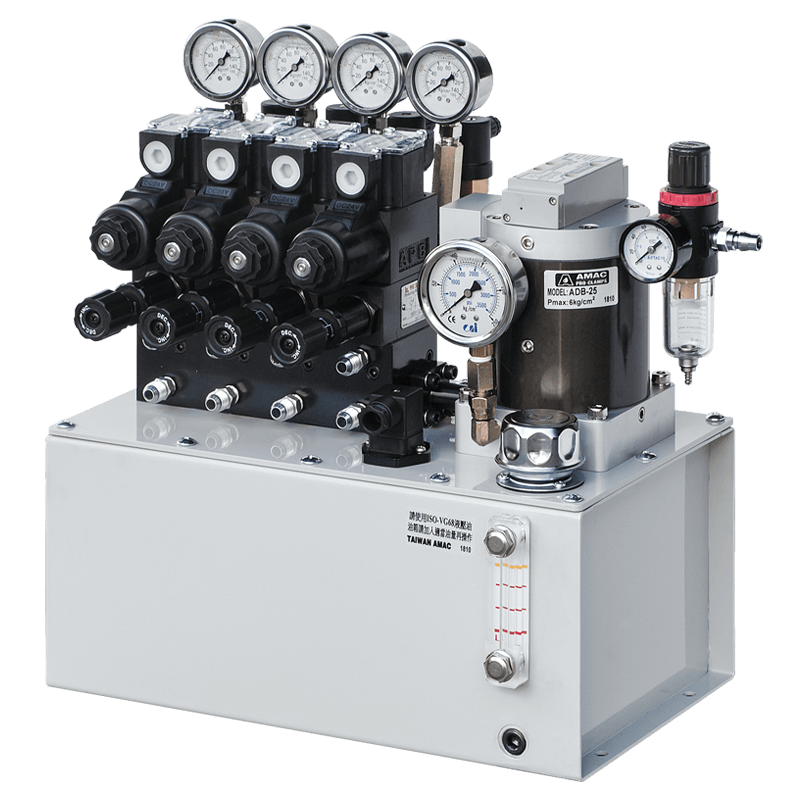 Product Introduction
• Pmax:6kg/cm²
• The body of the booster cylinder has the same actuating function as the single circuit. The output hydraulic pressure includes four circuit. The P port on each circuit is equipped with a single direction valve, so that each circuit can work individually.
• Optional Accessories: Fluid level switch in oil tank EP-125FA
• Modular pressure reducing valve (Max operation pressure 210kg/cm²)
MBRV-02P-1L:3~35kg/cm²
MBRV-02P-2L:7~70kg/cm²
MBRV-02P-3L:35~140kg/cm²
• Pressure sensor : Made in TAIWAN
JC-PS-02L:10~230kg/cm²
JC-PS-02LL:5~60kg/cm²
• Pressure sensor : Made in ITALY
PS-021:20~50kg/cm²
PS-022:50~80kg/cm²
PS-023:50~150kg/cm²
Specification
Fluid
Filtered air
Max operation pressure
6 Kg/cm²
Boost pressure rate
06
10
13
18
25
44
Air pressure supply

6 Kg/cm²

15.1
10.8
8.9
5.9
4.9
3.2
Hydraulic fluid expelled

L/min

Oil tank capacity
12 L
Oil
ISO-VG68
Order Code

1

Series
ADB

2

Boost pressure rate
06 , 10 , 13 , 18 , 25 , 44

3

Control type
Four-circuit manifold plate with ISO specification.

4

Direction change valve type
Single Head : 2B2-02,
Double Head : 2D2-02,3C2-02

5

Coil type
AC110V,AC220V,DC24V

6

The pressure reducing valve model
MBRV1,MBRV2
MBRV3,MBRV4
Notice
• Use ISO-VG68 hydraulic oil. Be sure to fill proper amount of hydraulic oil into the oil tank before operation.
• Periodically inspect hydraulic oil quality to prevent affection on normal operation and parts life.
• In case air system can't work, remove the air valve but do not break down. Use an air gan to clean the internal direction change ports.
• There is a thin type bronze silencer on the aluminum body of air cylinder. If it is blocked by suction of powder dust, it may impede the motion of the piston of air cylinder. When such problem occurs, remove it for cleaning or replacing.
• If air system works continuously, but hydraulic pressure can't boost, it means oil seal is damaged causing internal leakage.